NOVO BAR AL9000 DISPOSABLE VAPE DESIGN BY SMOK 5CT/DISPLAY
Brand:

NOVOBAR

Product Code:

NOVO9K01

SKU :

NOVO9K01-15

MSRP :

$29.99

CASE :

5CT/PK

MASTER CASE :

40DISPLAY/MC

NOTE :

COMPANY DIRECT WARRANTY

Availability:

In Stock
Available Options
Stock Qty
Qty
VARIANT FLAVORS
Price
30
BLACKBERRY RAZZ
33
BLUE RAZZ LEMONADE
32
CLEAR
38
FRESH MINT
38
HONEYDEW MELON MINT
34
KIWI DRAGON FRUIT BERRY
37
ORANGE PEACH
36
PINK LEMONADE
37
POLAR ICE
36
RAZZ BANANA
35
ROOT BEER
34
STRAW WATERMELON
37
STRAWBERRY KIWI
35
WATERMELON ICE
NOVO BAR AL9000 DISPOSABLE VAPE DESIGN BY SMOK 5CT/DISPLAY
As technology advances, many people turn to vaping as a healthier alternative to smoking. A new device to hit the market is the NOVO BAR AL9000 Recharge, which offers a variety of impressive features. These include a color-contrasted finish, a built-in battery with 800mAh capacity, and an extra-large prefilled 15ml palate that provides 9000 puffs of e-liquid salt nicotine. This blog post will examine the NOVO BAR AL9000 Recharge in more detail and highlight its many benefits.
It is introducing the SMOK Novo Bar AL9000 Disposable Vape - the perfect choice for vapers who demand convenience and flavor. With a prefilled 15ml e-liquid, 50mg nicotine by volume, and an 800mAh battery, this disposable vape delivers approximately 9000 puffs per device. Its non-refillable and rechargeable design ensures a hassle-free vaping experience, while its sleek and stylish design makes it easy to take on the go.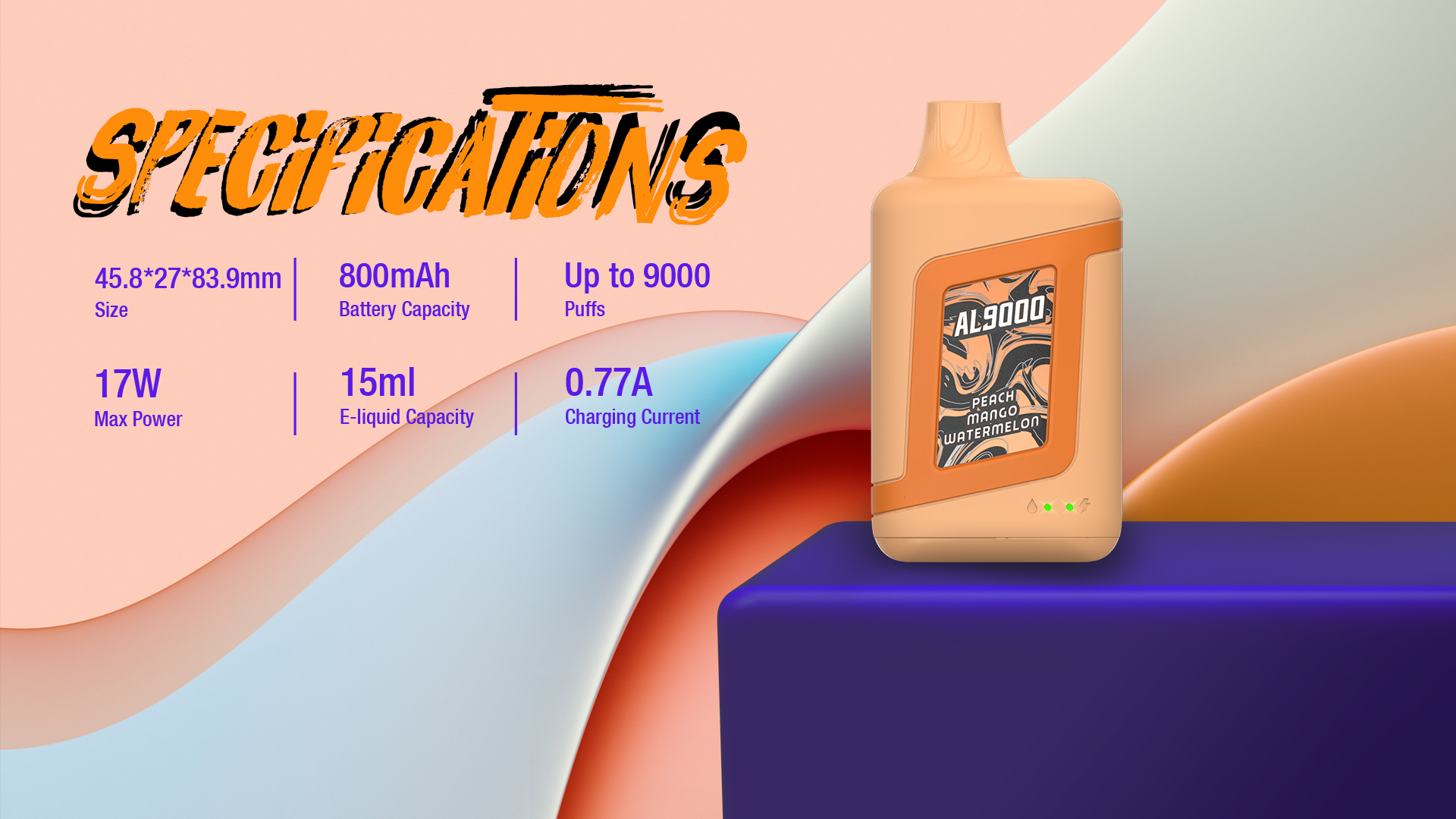 Features/Specs:
Prefilled Capacity: 15mL
Battery Capacity: 800mAh
Up to 9000 Puffs
Nicotine Strength: 5% (50mg)
Operation: Draw-Activated
Heating Element: Mesh Coils
Charging: Type-C Port
17W Max Output Power
Adjustable Airflow
E-Liquid Indicator Light
Battery Life Indicator


NOT FOR SALE OR USE BY UNDERAGE INDIVIDUALS | CALIFORNIA PROPOSITION 65 - Warning:

This product contains nicotine, a chemical known to the state of California to cause congenital disabilities or other reproductive harm. Products sold on www.akwholesale.com are not smoking cessation products and have not been evaluated by the Food and Drug Administration, nor are they intended to treat, prevent or cure any disease or condition.
Note:

All specifications and descriptions are based on information provided by the manufacturer. Information provided does not represent testing and verification by www.akwholesale.com and should be used at the consumer's discretion.

Do not accept returns, refunds, or exchanges for any reason.