LOOKAH DAB STRAW KIT
Brand:

LOOKAH

Product Code:

6973199598884

SKU :

LOSTR01

MSRP :

$37.99

NOTE :

COMPANY DIRECT WARRANTY

Availability:

495
LOOKAH DAB STRAW KIT
The Lookah dab straw is a traditional style dab device coming in a stylish carry case that's no bigger than a spectacles case. Unlike the other Lookah dab pens, this honeys straw doesn't use electronics. You will need a torch to heat up the tip or titanium dab nail, which functions like a standard nectar collector. 
The shape and size of the Lookah dab straw is similar to a ballpoint pen. The dab straw comprises five parts that disassemble for easy cleaning. The glass mouthpiece can be pulled out of place to clean and capture reclaim. Should you accidentally break this, there is a spare mouthpiece, so you're never without one. The dab kit comes with two titanium nails that can be unscrewed and swapped. There is a screw-on tip cover to prevent any wax residue from dirtying up your pocket or the carry case. If you don't have time to clean it immediately, you can store the device without getting messy. The portable dab kit has a nifty stand to hold the dab straw upright so you can put it to cool after using it without worrying about buying anything. 
This unique dab kit from Lookah has been carefully thought out and includes everything you could think of for dabbing on the go. Well, other than the torch and wax, that is.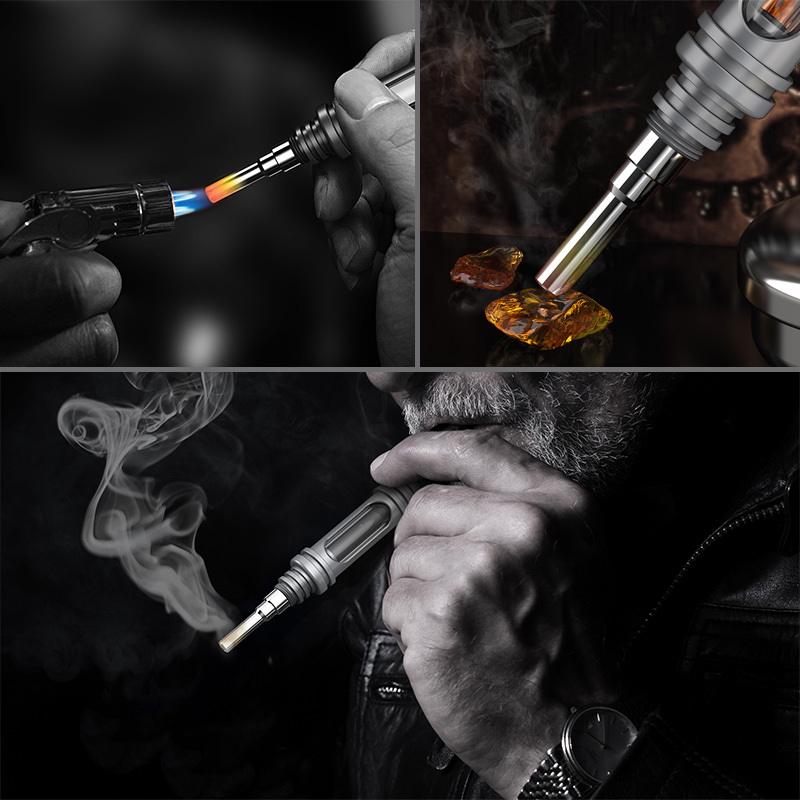 Specifications 
Dimensions: 66.7mm x 157mm x 25.5mm (Nectar collector in case)
Dimensions:142mm x16.6mm (Nectar collector only)
Weight: 230g (Nectar collector in case)
Weight: 28.5g (Nectar collector only)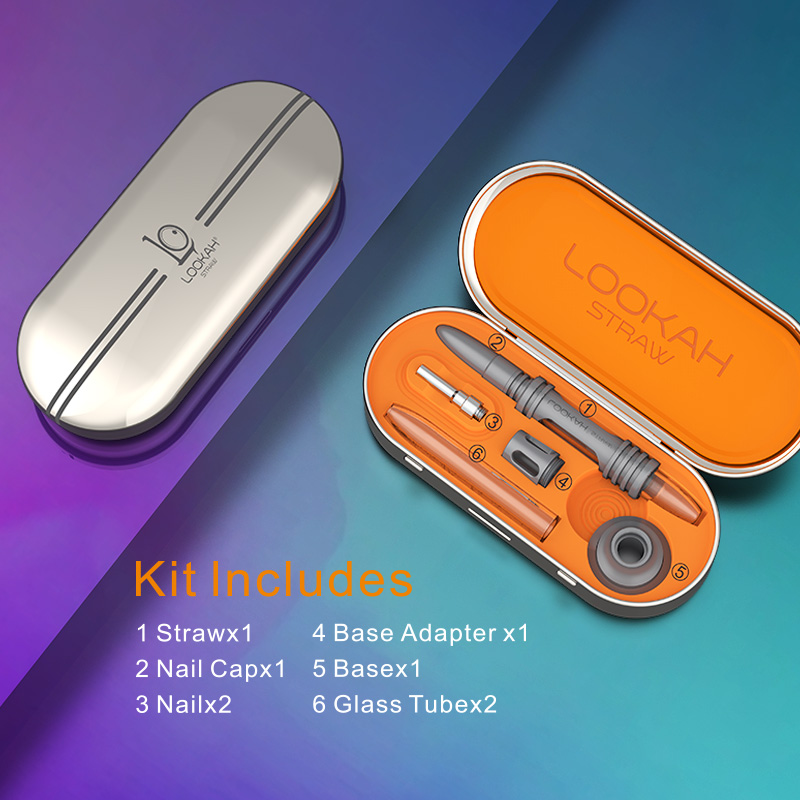 PRODUCT WARNING:-

Electronic Cigarettes are intended for use by existing smokers of legal smoking age and should not be used by children, women who are pregnant or may become pregnant, or anyone with pre-existing medical conditions without first consulting your doctor.  Electronic Cigarettes are not meant to cure, treat, or prevent any illness or disease.  AK Wholesale products are intended to be used as a tobacco alternative.  These products are not marketed as smoking cessation, nor have they been tested as such.  Keep out of reach from children & pets.

Coils will only work on a device capable of firing atomizers. Must ensure that your batteries can handle atomizers and coils. Please use at your own risk and always use proper precautions and handling as these are very sensitive to charging characteristics and may explode or burn if not properly handled. Please note that there is an inherent risk with the use of any coil or device and all rechargeable batteries in any circumstance. AK Wholesale Inc. is not responsible for any damage, injury, or defect caused by the improper use and/or mishandling of coils, devices, Li-ion (Lithium-ion), LiPo (Lithium-ion Polymer), and any rechargeable batteries and chargers. Please use at your own risk and before use read carefully user's manual.

This product can expose you to nicotine, which is known to the State of California to cause birth defects or other reproductive harm. This product is not recommended for pregnant women or people with cardiovascular issues. Always ensure that any E-Juice is kept out of reach from children and pets. For more information, go to http://www.P65Warnings.ca.gov